South Africa is abuzz with shock and concern following a daring and brazen cash-in-transit heist that unfolded along the N12 near Diepkloof, Soweto.
In a shocking turn of events, armed robbers cornered and detonated explosives on a cash-in-transit vehicle, sending shockwaves throughout the country.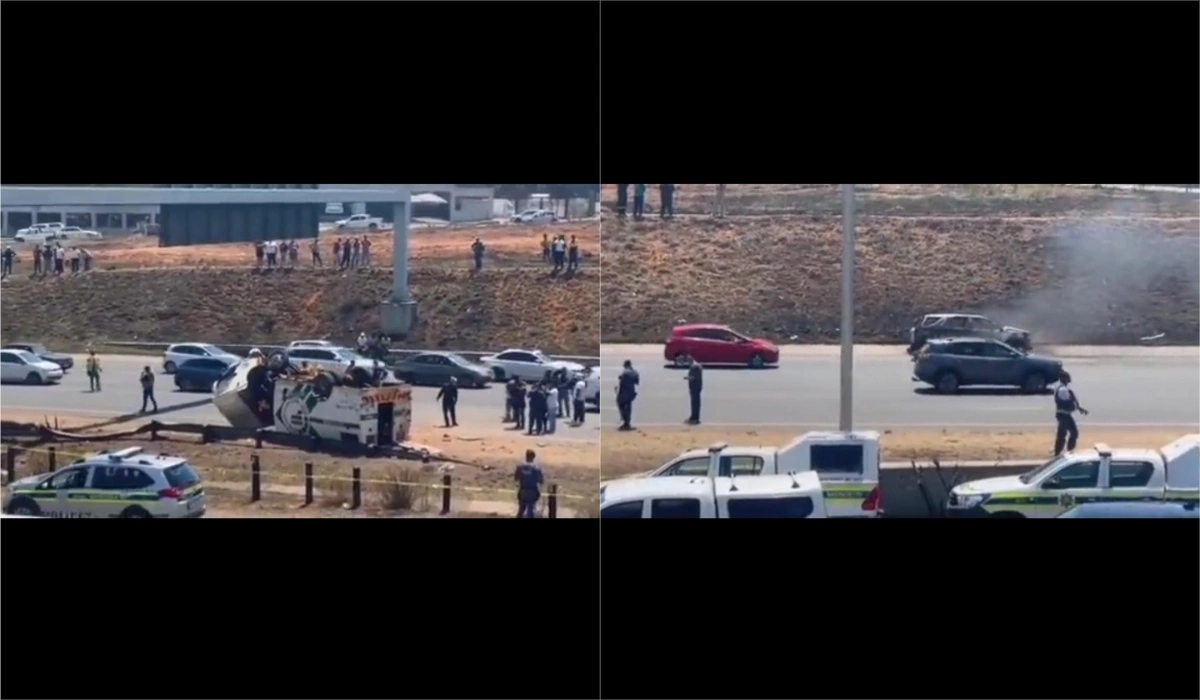 Brazen Cash-in-Heist Stuns the Mzansi
Videos of the incident have circulated widely, showing pedestrians and onlookers rushing to the scene of the overturned van.
Scenes from the CIT heist on N12;
Today's #CITRobbery on the N12, south of JHB. pic.twitter.com/nJ1YGVP6EB

— Yusuf Abramjee (@Abramjee) October 7, 2023
As of the time of this report, the exact amount stolen by the armed robbers remains unknown. Authorities are working tirelessly to assess the extent of the heist and the losses incurred.
Watch another video below from the scene;
[WATCH] Police and ambulances on scene after what is believed to have been a cash-in-transit heist on the N12 just outside Diepkloof. @Newzroom405 pic.twitter.com/QL8hUt2gi7

— Linda Mnisi (@LindA_MniSii) October 7, 2023
Ongoing Surge in Cash-In-Transit Heist
This daring robbery adds to a growing list of cash-in-transit heists plaguing South Africa. Recent months have witnessed an alarming increase in these violent incidents, with more than four cash-in-transit heists reported in a single week.
Also Read: CIT Heist 'Money Shower' in Eastern Cape: Locals Dash for Cash Amidst Chaos
The situation has become so dire that even in KwaZulu-Natal, three CIT robberies occurred in just three days, culminating in a deadly shootout, News24 reveals.
The shocking incident has prompted an outpouring of reactions from South Africans who are concerned about the rising wave of brazen criminal activity, particularly in cash-in-transit heists. Netizen voiced their concerns on social media, urging law enforcement to take vigilant action and bring an end to these criminal acts before they spiral out of control.
Check out some of the reactions;
@BhekaniNkosi3;
Kodwa is there no other way of transporting cash?unbrand the vehicle
@THETJi1;
South Africa is a real movie, the cops are always the last to arrive
@Thabile_TTO;
Truly, This just cannot be life!Crime!Everyday?
@TmPhuthu;
CIT heists everyday 😪.
@Poli_mae;
Another one?? Yooh there's always crime in this country evry second,minute,and hour but during this time of the year it triples
@SisMokgaetje;
Festive is here, heists crime is increasing 🤦🏾‍♀️ but the way they're executed and well planned most of them look like inside jobs with upper hand….