Springboks player Damian Willemse is still wearing the same kit he wore during the final match against New Zealand on Saturday.
Willemse, who turned 25 in May, was one of the standout players for the Springboks, who defended their title with a thrilling 12-11 victory over the All Blacks at the Stade de France in Paris. Willemse, the youngest member of the South African rugby team, started at fullback.
ALSO READ: From Rugby Glory to Parenthood: Eben Etzebeth and Anlia Etzebeth Expecting Their First Child After Rugby World Cup Win
Damian Willemse Still In His Rugby World Cup Kit
Of all the Springboks players, Damian Willemse is having the most fun over the World Cup win. He is still wearing the rugby kit he wore when South Africa beat New Zealand on Saturday.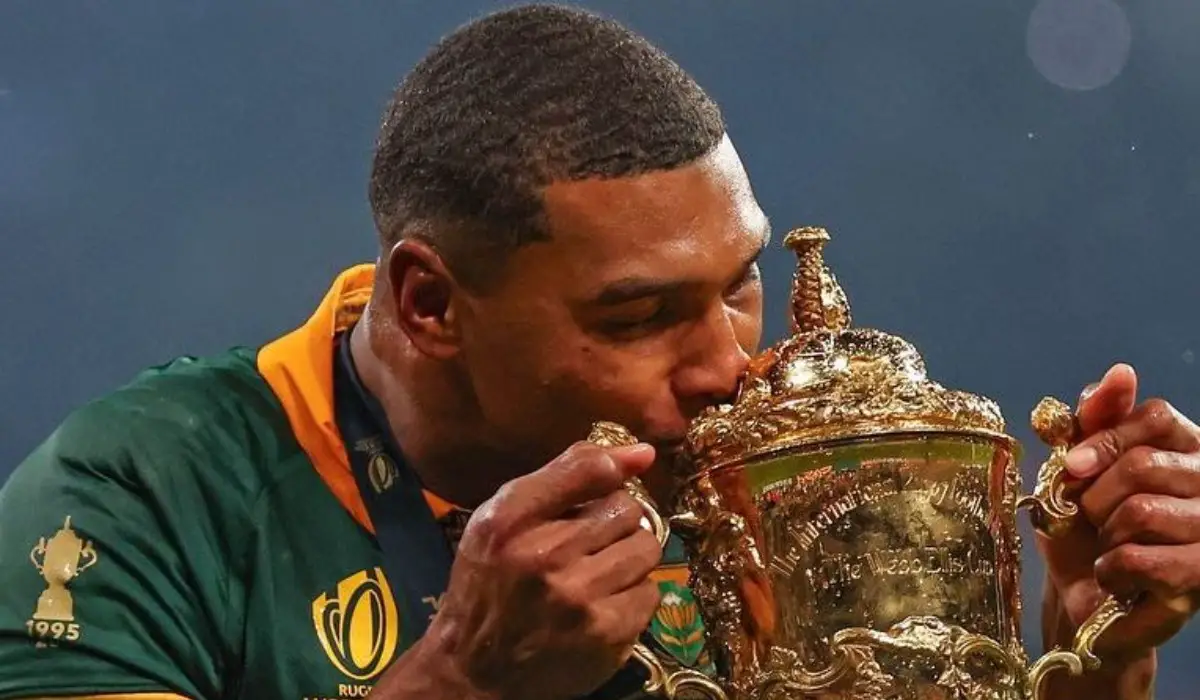 As the team celebrated the fourth World Cup victory and popped champagne on Saturday, Damian rocked his kit. He then went to bed and woke up still in the iconic kit, his medal draped over his neck.
On Tuesday, the World Champions touched down from France to a heroes welcome at OR Tambo International Airport and the GOAT Damian Willemse still had his Springboks kit.
Yesterday, he went to get a tattoo inked on his butt and later took videos simulating a scrum with Ox Nche. You bet that right; Damian was clad in his kit. The fullback is so happy he is even sleeping wearing the gear.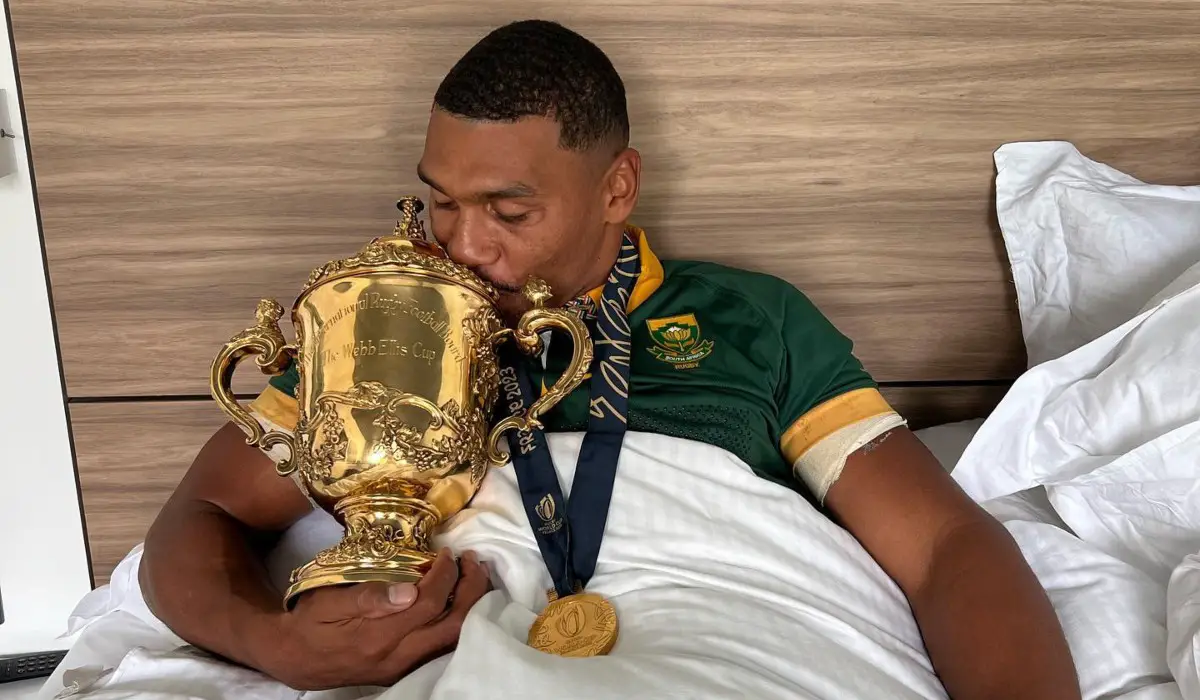 Today, the squad kicked off the World Cup trophy tour in Johannesburg and visited the Union Buildings to meet President Cyril Ramaphosa. Our man Damian Willemse still had his Springboks kit on, strong.
An EWN reporter asked him if he would remove the jersey, shorts and socks. He apologised and clarified that he was keeping the kit on.
Damian Willemse tells Eyewitness that he doesn't plan on taking off the kit he wore at the finals in France. #Springboks @Alpha_Mero25 pic.twitter.com/gp3x85XRnH

— EWN Reporter (@ewnreporter) November 2, 2023
"Jack Grealish!": Mzansi Rolls In Laughter
South Africans are having a good laugh as Damian Willemse lives his best life.
Prince:
"It means a lot to him."
Phaphama:
"😂😂 Go champion, milk it for as long as you can 😂😂😂"
Kelly:
"Ma se kind is going to wearing that during the next Bok fixture."
Ramatsie:
"This dude is hilarious 😂. What a player and what an achievement at such a young age🫶"
Lwanda:
"Even Kolbe still has his shoulders strapped from the final."