Reality TV star and self-proclaimed sangoma, Gogo Maweni – real name Makgotso Lee-Anne Makopo, caused a stir among her social media followers with her recent announcement. On Friday, 13 October, she revealed her intentions to have a cozy Netflix and chill session at home, accompanied by her slithering companions.
'LOVE THE WHITE ONE': GOGO MAWENI SHOWS OFF SNAKES
Gogo Maweni's affection for her serpentine pets has reached new heights. The Izangoma Zodumo reality TV sensation spent her Friday evening in the company of her snakes, within the confines of her splendid abode.
In a TikTok video, she proudly displayed her five snakes gracefully maneuvering on her couch. With a smile, she declared, "Hello babies. We are going to watch TV… Netflix and chill."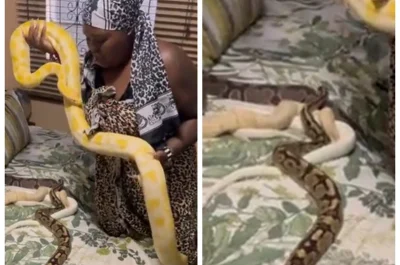 Gogo Maweni: The 'Snake Lady'
Maweni, as reported by IOL, has earned the moniker of the "Snake Lady". This title was bestowed upon her after she openly expressed her fondness for these reptiles. It's worth noting that alongside her snakes, she also cares for two owls, a tortoise, a pair of dogs, and a few rabbits.
Social Media Reactions
The snakes managed to get both positive and negative comments from followers. Here are some reactions from social media users:
"Poisonous or not, it's never advised for snakes and people to cohabitate," @user3859909723096 cautioned.
"They look captivating. But I'll pass on the invitation to your place, Madam 🏃‍♀️🏃‍♀️," @user3437619346581 responded.
"I will never visit this house 🤭," @user9229661979763 declared.
"And will the visitors be sitting there too?" @ikenna inquired.
"Love the white one, what is her name?" @nomendeskincare asked.