CIT Heist 'Money Shower' in Eastern Cape: Locals Dash for Cash Amidst Chaos
There was chaos in the Eastern Cape recently after a CIT heist when locals dashed for cash from a blown cash can.
ALSO READ: WATCH: Armed robbers hit cash-in-transit vehicle at Johannesburg filling station
The Daring Cash Robbery
The details of the cash-in-transit heist are still sketchy, but the robbers tailed the van as it transported millions of rands from a local bank.
The men intercepted the CIT van, apprehended the security personnel guarding the cash and detonated the vehicle. When that happened, some of the banknotes in the van flew into the air because of the explosion and scattered some metres around the spot.
The thieves managed to swiftly collect tons of money from the blown CIT van and spirit off from the scene without a trace. They had no time to clean off or take the money that was scattered on the ground.
ALSO READ: Foreboding Twist: Pick n Pay Store Hit by Robbery Day Before Founder Raymond Ackerman Dies
Locals in Frenzy to Grab Fortunes From The CIT HEist In The Eastern Cape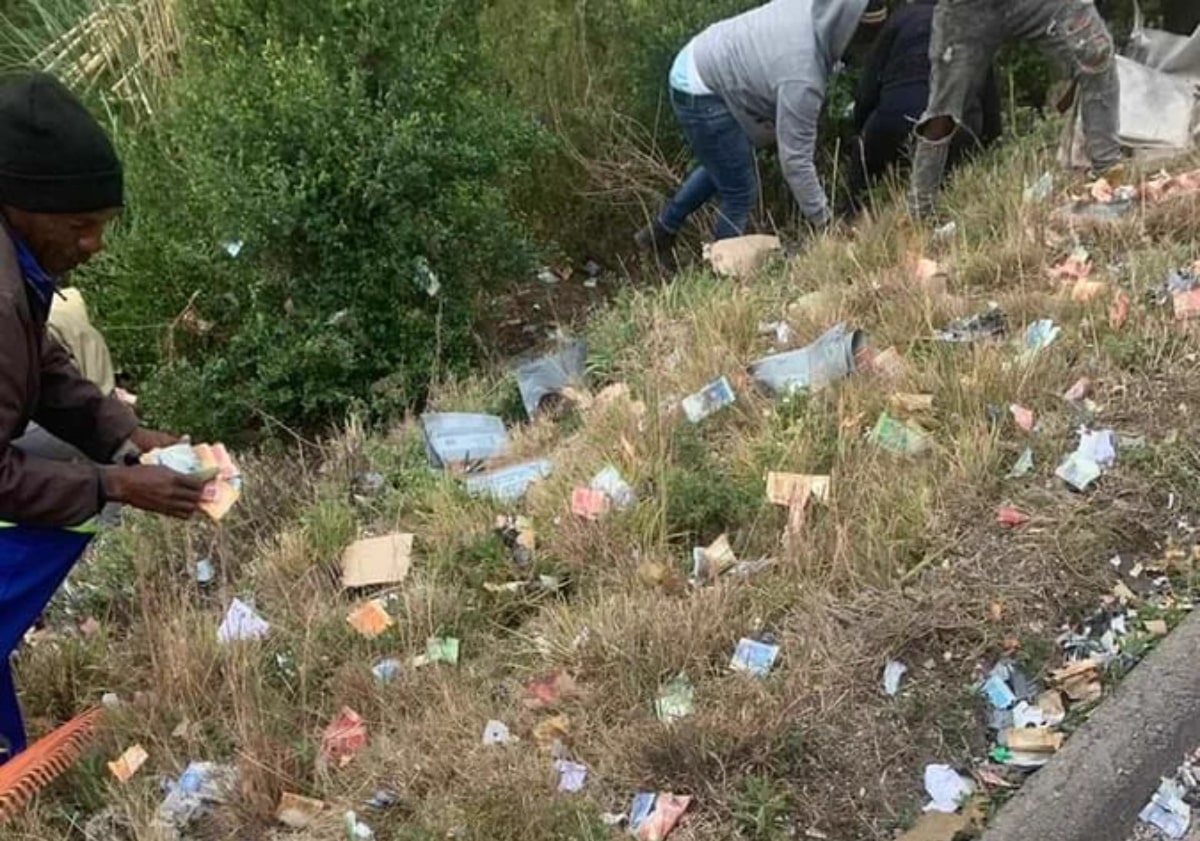 After the armed robbers left the spot, locals rushed to the scene of the crime, and it was madness.
The people crammed and jostled to take some of the money. In pictures making rounds on Twitter, men of all ages were seriously focused on securing the bag, and the notes were too many for them to collect as swiftly as possible.
Because of the intensity of the bomb blast, some of the banknotes were torn into pieces. however, most of the cash was still intact, and the locals feasted on them.
Mzansi expressed mixed emotions online.
Badlana:
"This occurs like every week here in the Eastern Cape on the N2 between East London and Kokstad and between Phakade junction and Bizana/Port St Johns. Sadly you will never hear about it on TV."
Just Justice:
"Not bad, some notes left for the community 🤔"
Zerps:
"The ground is full of money, and they're busy taking a video?"
Amo:
"Why it never happens in the presence of Some of us 😭😭😭🤲"