Nomfundo Moh Biography
Nomfundo Moh, a renowned South African Afro-pop singer and songwriter, has left an indelible mark on the music industry with her soul-stirring voice and captivating songwriting.
Age
Born on July 18, 2000, Nomfundo Moh is 23 years old, and her musical journey continues evolving.
Real Name
Nomfundo Ngcobo
Nomfundo Moh Early Life and Education
Originating from Ndwendwe, KwaZulu-Natal, Nomfundo Moh's musical odyssey commenced in her hometown. She began her educational journey at Intaphuka Primary School, where she laid the foundation for her future.
ALSO READ: Trevor Noah Biography
Later, she pursued higher education at the University of KwaZulu-Natal, earning a Bachelor of Social Worker Degree, which added depth to her artistic perspective.
Music Career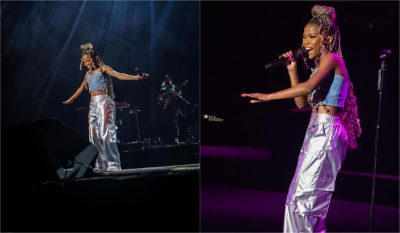 Nomfundo Moh's passion for singing ignited during her school years when she actively participated in singing competitions and talent shows, where her raw talent and vocal prowess shone brightly.
Her journey to stardom included honing her skills through covers and freestyles, setting the stage for her entry into the music industry. Impressively, at the age of 16 in 2016, she began crafting her own songs, marking a pivotal moment in her musical career.
Nomfundo Moh Rise to Prominence
With a record deal from Universal Music, Nomfundo Moh catapulted to stardom. Her debut studio album, "Amagama" (2020), achieved Platinum status according to the Recording Industry of South Africa (RiSA).
The album featured chart-topping singles such as "Phakade Lami," "Lilizela," and "Umthwalo," solidifying her status as a rising star in the industry.
Career Milestones
In September 2020, Nomfundo Moh embarked on her journey to create her debut studio album.
In 2020, she signed a significant record deal with Universal Music South Africa.
In February 2021, her breakthrough single, "Lilizela," achieved Platinum certification in South Africa.
In June 2021, the album's second single, "Umthwalo," was released.
On October 7, 2021, her third single, "Phakade Lami," featuring Ami Faku and Sha Sha, debuted at number 1 on Metro FM Top 40 Charts and achieved 6× platinum status in South Africa.
Debut Album Release
Nomfundo Moh's debut studio album, "Amagama," was launched on January 28, 2022. The album showcased a diverse blend of musical genres, including R'n'B, Traditional pop, and hip-hop, and peaked at number 7 on Spotify album charts.
ALSO READ: Amanda Black Biography| Real Name, Early Life and Education, Music Career, Idols SA, Signature Facial Art
Recognition and Achievements
In early March 2022, Moh was featured by Apple Music on the Africa Rising program.
On April 13, she was named the Equal Africa Ambassador by Spotify.
May 2022 marked her feature on the Shay'na nge White Star campaign.
Second Studio Album: "Ugcobo"
In March 2023, Nomfundo Moh thrilled fans by announcing her second studio album, "Ugcobo." The lead single, "Amalobolo," featuring Big Zulu, was released on March 10, 2023. Subsequently, her Instagram account revealed " Uthando Lunye " as the second single on April 25, 2023.
"Ugcobo" itself was released on May 26, 2023, achieving the remarkable feat of amassing 1 million streams in less than a week after its release.
Influences
Nomfundo Moh draws inspiration from influential artists such as Brenda Fassie, Ami Faku, and Amanda Black. These artists have significantly shaped her unique musical style and expression.