Robot Boii, the South African sensation who has recently captured the international spotlight, has achieved the prestigious title of Best Dancer in Africa at the 2023 Trace Awards. His signature moves and infectious energy have propelled him into stardom.
Robot Boii: A Rising Star
Robot Boii's journey to success goes beyond his exceptional dance skills. It's a testament to the global appeal of Amapiano music and dance, a genre originating from South Africa that has rapidly gained worldwide recognition. Robot Boii stands as a charismatic ambassador for this unique genre.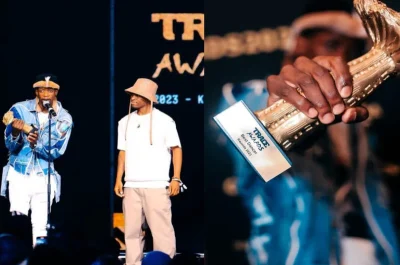 The Allure of Amapiano
His distinct blend of rhythm, style, and flair has not only inspired dance enthusiasts but has also introduced the world to the irresistible allure of Amapiano. It's a genre that speaks to the soul and ignites a passion for dance.
Robot Boii: Grateful
Amid the glitz and glamour of his success, Robot Boii took a moment to reflect on his remarkable journey. In a heartfelt message shared on social media, he expressed his gratitude, saying, "Dear 🇿🇦…Amapiano to the world! BEST DANCER IN AFRICA AWARD. God Did." These words resonated with his fans and fellow artists, emphasizing the importance of gratitude in the entertainment industry.
Dear 🇿🇦…Amapiano to the world!

Also well done to @Springboks 🏉

📸: @urbankreativeSA #RobotBoii #TraceAwards2023 #Springboks pic.twitter.com/LJdPArGuOE

— Roboto x3 (@Robot_Boii) October 21, 2023
A Triumph for a Movement
His victory at the Trace Awards was not just a personal triumph but a win for an entire movement. It was a victory for South Africa and for all those who have ever danced to the irresistible beats of Amapiano. Robot Boii's journey serves as a testament to the fact that dreams can indeed come true with hard work and unwavering dedication.
Fans Celebrating Robot Boii
Fans raised a toast to Robot Boii, the artist who danced his way into the hearts of millions and transformed Amapiano into more than just a music genre—it's now a global phenomenon. The Best Dancer in Africa award not only acknowledges his talent but also celebrates the unifying power of dance that brings people together from all corners of the world.