Ex-Convict Bongani Tsime has struck again with more shocking allegations as he accuses Kabza De Small and Focalistic of having tlof tlof with other male artists in the music industry.
Bongani Tsime made headlines yesterday after he accused Dj Maphorisa of sleeping with Amapiano vocalist Daliwonga and other male artists.
DJ Maphorisa is secretly sleeping with other men, including Daliwonga and others. He is sleeping with Daliwonga…He is smashing young boys who want to be in the music industry," Bongani Joshua Tsime stated on The Wall Podcast with SkeemGP.
Dj Maphorisa vehemently denied the claims and vowed to deal with Bongani decisively.
"I'm gonna show u how I deal with these kinds of issues I will make him pay."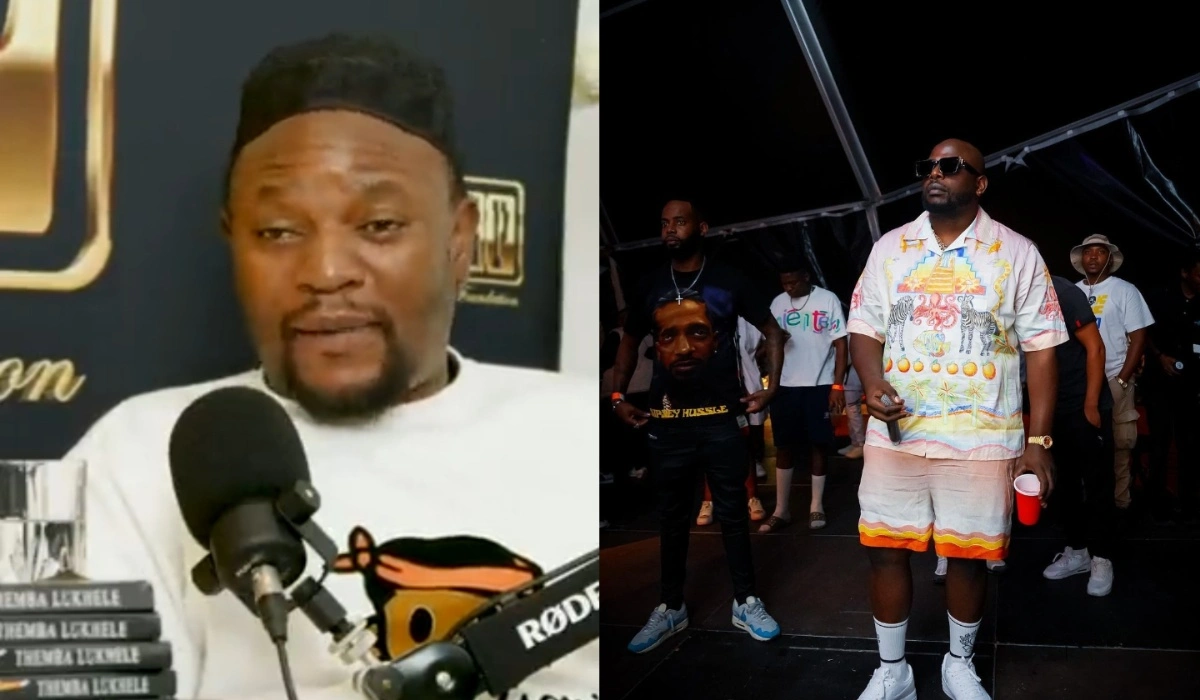 Also Read: "I Will Make Him Pay": Dj Maphorisa Hits Back, Denies Having Tlof Tlof with Daliwonga & Other Male Artists
Bongani Accuses Kabza De Small & Focalistic of Having Tlof Tlof with Other Male Artists
In a new video that was shared on X, Bongani made more shocking revelations. He added more prominent names to his list of accused artists. According to him, Kabza De Small, Focalistic, and Ntosh are also involved in these undisclosed relationships with other male artists in the industry.
He refused to back down from his claims adding that these artists are successful because they sleep with each other.
"This industry cannot tell me anything, I didn't get in like all you other people. These men sleep with each other, that's why they become so successful."
Watch the video below;
[JUST IN] "Ziyadlana lezinja"😳

Ex-con, Bongani doesn't back down despite Phori saying he'll make him pay for accusing him of sleeping with Daliwonga & other artists

Kabza, "Vocalist" & Ntosh made it to the official list 🫢 https://t.co/oglpH1Ncr1

Zungu Maboe Stogie T Motsepe pic.twitter.com/a5quJCnhvh

— YaseBlock B 🇸🇿 (@ThisIsColbert) October 19, 2023
The allegations have sparked a wave of social media discussions. While some netizens are skeptical of Tsime's claims, some social media users dubbed him an attention seeker. Netizens argued that he was just jealous because he was not a top artist and that Daliwonga refused to feature him in a song.
@Mmeshi_Kgaphola;
This is so DISTASTEFUL on so many levels,for Bongani to weaponize homosexuality by misusing it as a slander to degrading & defame other men. Phori should sue this guy, irrespective of whether his claims are substantiated or not.
@molefe4432;
Phori must go hard and not sympathize, we can't have such in our societies at this age
@MxolisiTerrenc1;
But again why the infatuation with uk'dlana indunu nok'dliwa phela we must all remember bro is an ex convict and we all know what happens inside those walls now he thinks everyone gives away their chocolate box to make it 🙆🏿‍♂️😂
@Blaq_Perfume;
He been here for long droping nonsensical music his bitter this one because things are not happening the way he thought they would happen for him he doesn't get features from them that's why his like this I'm telling u indlala inama simba we all know😂😂